About 'NaMah'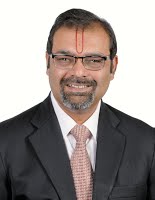 Known as 'Tiger Navneet' amongst friends I am a nature lover and have been active in wildlife conservation and awareness related activities for last 3 decades. Nature and wildlife has always been in my backyard since I was born in Jabalpur which is surrounds by forest as well as Kanha, Bandhavgarh and other central Indian tiger reserves are very easy reach for me. It is my love for wildlife and nature which inspired me to take up a camera when I realised its influence and effectiveness in generating awareness.

I believe wildlife and nature photography is the best expression to convert people towards conservation since photographs speak for themselves and are very powerful medium. To be a good photographer you need to understand your subject well, anticipate the right moment, click at that perfect time and that is not easy, you need to learn, practice and be patient.

I started doing photography with an old Kodak box camera which used 120mm black and white film roles. Although my interest in wildlife and nature attracted me a lot but as in traditional business families I was pushed to do business. It was only in 1999 that I picked up my first serious camera – a Minolta 600si with 100 – 400 mm lens and started pursuing my passion of photographing wildlife. Within 5 years I had more than 200 awards and acceptances in wildlife photography from national and international salons.

Than came a gap of few years as I joined our family business so time became an issue. It was difficult for me to indulge in my passion and this instigated me to start a wildlife eco lodge near Kanha National Park, a perfect to bring me back to nature and wildlife where my heart lies – thus was born Kanha Village Eco Resort. It is only in 2016 after a gap of almost 10 years I again started wildlife photography with one thing in mind, to help people in understanding importance of wildlife and nature as well as to generate awareness amongst public at large to come forward to save our wilderness and whole bio-diversity. Also, I started a wildlife tour company – Stripes Holidays offering wilderness tours around the world focusing mainly to Central Indian Tiger forests.

I have travelled to many countries mostly for leisure or business reasons including United Kingdom, United States of America, Germany, France, Spain, Italy, Austria, Nepal, Sri Lanka, Thailand, Indonesia amongst others. Within India I have visited many tiger reserves as well as other forests for enjoying nature and pursuing my hobby of wildlife photography.

I want to use my knowledge and interest in wildlife to help other like-minded people from all over the world in getting good photographs and go back with better understanding of Indian wildlife. I am fortunate enough to have learnt art of tracking tigers and other wildlife from some well known experts in the field and I always use it to help my guests so as to enable them to get perfect sightings. My sense of tracking tigers is second to none and this is the biggest advantage in favour of guests whom I am accompanying.

I am actively associated with many conservation and Responsible tourism related organisations like.
Bombay Natural History Society
People for Animals
Kids for Tigers (Sanctuary Asia initiative)
TOFT
Photographic Society of America
Federation of Photography, India
IIPC