Awards & In News
I have received awards for my photographs as well as my hospitality business has received appreciation at different stages. My first award for my photography was for a tiger sitting on rock, as if ready to charge any time. That was starting, I went on participating in salons, both national and international where my photography got recognition at different levels from acceptances to certificate of merit and awards. Photographic Society of America made me its member in recognition of my wildlife photographic work. I stopped participating in salons after touching 200 recognitions.

My resort at Kanha – Kanha Village Eco Resort was adjudged as – 'The Best Responsible Tourism Project' in 2017 and 'Best Eco-Friendly Forest Lodge' in 2018 by Ministry of Tourism, state of Madhya Pradesh. Being on top of the list at Trip Advisor for many years it has also been awarded as 'Best Responsible Tourism Initiative' at TTF, a leading travel and tour fair in India.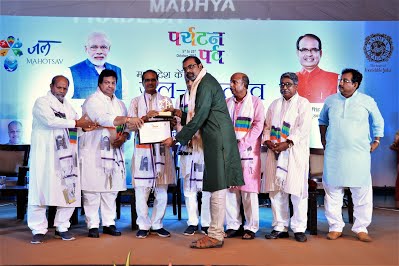 (Photograph of receiving award from Former CM / Minister of Tourism 2017 & Tourism Minister 2018)

NEWS
---
Being active in conservation and related activities keeps me highlighted in news. Many of my photographs as well as my interviews have been published in well recognised magazines and news papers in India.